When walking into an art gallery, I enjoy immediately being confronted by the question, "but is it art?"
I don't mean from a philosophical or aesthetic perspective, I mean, is that figure in a luminous vest curated or has it been called to fix the plug sockets.
It didn't take long to ascertain that this was a man with a drill checking plugs, not a performance. You may contest me and say, "but isn't life itself a performance", and I'll reply, "I can't hear you, I typed this earlier and I am somewhere else now, and what I mean is that Elizabeth Price didn't choose and place this man of electrical abilities".
The electrician complimented the Gavin Turk artwork beside him. Nomad is a bronze cast of an occupied sleeping bag.
It is a work you are desperate touch. It looks so like a dirty sleeping bag made of polyester and other 1950s material wonders, but we know it is solid. The more you look at it, the more you imagine who may be inside. When the gallery is very quiet, there is a hint of apprehension that it may suddenly burst into life like the hessian sack in the terrifying but artful torture film, Audition.
Elizabeth price has curated four rooms – Sleeping, Working, Mourning and Dancing. It may be sadly instructional that my favourite on both visits has been Sleeping. This is partly Charles Laughton's fault. Projected on the wall is the beautiful and haunting Pretty Fly song from Night of the Hunter.
Anytime I witness even a smidgen of this masterpiece, I am hamstrung with confusion by the fact it was a critical and commercial failure on first release. I need to see it on the big screen almost immediately.
In a Dream You Saw A Way to Survive And You Were Full of Joy, a quote from Neo Conceptual artist Jenny Holzer (I have just typed a term I cannot define). Beneath this quote is Kenneth Armitage's Figure Lying On Its Side (no.5) which reminded me that I hope never to wake up and find myself transformed into an insect.
Elizabeth Price is an admirer of Henry Moore and his drawings can be found in Sleeping and Working. I think I prefer his shapes as drawings than as sculptures, and this is why I am not the sort of person to professionally discuss art. It may be that I see some similarities to the gloomier pictures of Raymond Briggs (and what a man he is to deliver to his publisher the traumatic nuclear apocalypse drama When the Wind Blows as a follow up to The Snowman).
One wall highlights the sleep of the homeless, both in London and South Africa. A century old photo shows vagrants asleep and dotted across Green Park like the corpses the absent-minded gravedigger forgot. In the background is an ornate house. Lately, I have taken to staring at pictures of old houses and briefly imagining that on second examination there is a figure in the window that wasn't there on first look. I realise it is me, am I strangled or strangling. I must stop reading MR James. It is ever since I bought that book on Ritual Animal Disguises (best purchase this week, can you see me in the window?).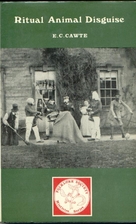 In one photograph of 1975, the park sleeper has fallen asleep with pencil in hand and times crossword balancing on his belly. I don't think you are meant to imagine the homeless doing crosswords, or refugees, it means they may be just like us, and then where would we be?
Bridget Riley's graph paper, a pattern half mapped out, reveals the care of her process.
The photographs of Carl Andre's Equivalent VIII, best know as Bricks, reminded me of just how disgusted the 1970s public were by this. It launched a million barroom conversations which began, "call that art…my three year old could do that", which has continued to be echoed every Turner prize since.
Carolee Scheemann's Meat Joy was being shown, and the spectators I was with didn't seem to be won over by these 60s art provocateurs of New York sticking chicken and fish in their underpants. I I find something delightful in Carolee Schneemann's playfulness, but i couldn't hear the voiceover, so I may have missed the meaning. I like to see it as the arthouse version of John Water's chicken fucking scene in Pink Flamingos.
The art peekers gave even less time to Fikret Atay's Rebels at the Dance 20 – 2. Two boys singing a sort of song and dicking about by a cash machine. Most had their headphones on for something approaching Planck time. Like many similar things, it doesn't work for three seconds, but if you keep looking, and I did, it becomes delightful and alluring.
My favourite title was Lynn Hershman Leeson's Roberta Multiple is exorcised by a flaming vase. i liked it so much, I bought the book.
The three minute excerpt of Fassbinder's American Soldier made me realise I should stop being such a dolt and watch a lot more of his work. Fear Eats the Soul every three years may not be enough.
On the way out, I pitied Cicely Hey. It's how they'll always remember her, thanks Walter Sickert.
(there was much more besides. I think Whitworth Gallery is in my top five now, but it's the Hepworth tomorrow…)
Book Shambles is back. We start off with Alan Moore, soon to be followed up by Noel Fielding.
Patreon supporters will get a bonus 70 minute Alan interview. All podcasts are HERE.