Striding through the urine warm, wave machine propelled waters of a Kentish leisure centre, I realised that there wasn't a body there that wouldn't be shamed if it belonged to a public figure.
Evolution can create a lot of shapes in a single species.
Looking at Spencer Tunick's photographs of the naked and blue in Hull, I was struck by how many shapes barely exist in culture unless they were painted by Lucian Freud or appear on a late night TV show where people weep because they have come to learn from glossy mags and pop promos that their fluctuating skin is fit only for a circus sideshow.
With so many body types, it seems peculiar, even perverse, that those that are projected at us from screens, magazine covers and the sidebar of the Mail Online have so little variety. Even the beach imperfections that incite relentless clicks and salon debate are many miles from the average angular diversity seen flying off the water slide or yomping through the shallow end.
"Does the body rule the mind or the mind rule the body, I don't know", sang Cartesian Morrissey. The fear of our own bodies and how they are judged by others seems to pointlessly preoccupy our minds more than is healthy or useful.
Underlined in my oft-reread copy of Neil Postman's Amusing Ourselves to Death is "the shape of a man's body is largely irrelevant to the shape of his ideas". For a species that prides itself on a superior brain and the ability to rise above the animal, we are chained to some dull notions on the physical. The corsetry has changed, but the obsession with outward physical appearance still seems to usurp any interest in outward mental appearance.
Hair transplant first, thoughts second (if necessary).
My own body horror as a child was having vague breasts. It was enough to mark me out as a chrysalid should I be forced to play in the skins team in PE. I can still recall the nausea as the teacher divided us up and I prayed to whatever god I held in my head then that I would remain in my vest.
REM's inner sleeve for Eponymous remains a favourite on this subject of creative inventiveness and cracking tunes just not being enough for the publicity department.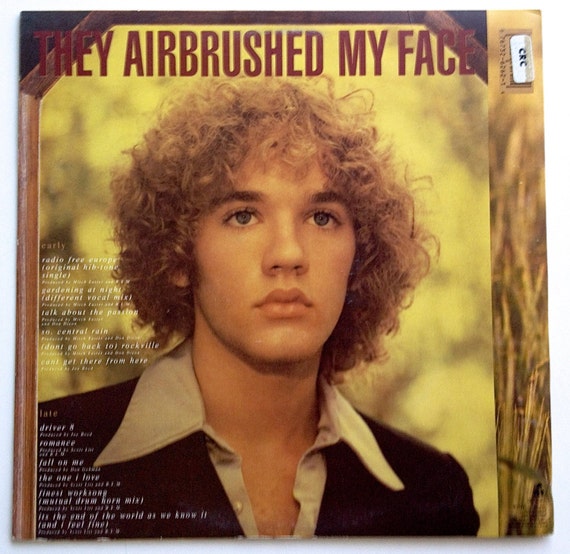 Leafing through the internet, I find out that Nicholas Parsons looks a bit old as he departs from the BBC (at 92 and 3/4s, I think he is allowed moments of looking a little more fragile than Dwayne Johnson) and Stacey Solomon's beach breasts may be flesh, not marble. What strange, yet mundane days it must be for the paparazzo when his mind rejoices, "callooh! callay! I have caught a moment of bikini bosom adjustment. The editor will be gleeful and I shall feast on Lobster soup tonight".
Is this obsession because we feel so unhappy with ourselves, so thrive on "the beautiful people" sagging and puckering, or is it just from spite?
Sadly apocryphal, the tale of John Ruskin's wedding night is the Aesop fable of pubic hair. As an art critic, Ruskin was well aware of the female form, at least its painted version. Ruskin may have scrutinised many female nudes in the galleries, but their pubic hair was unrepresented in oils or watecolour. Therefore on his wedding night, he was shocked to the point of impotence by his wife's "unnatural" hair. The marriage was never consummated.
I was told that pubic hair did exist in paintings before Gustave Courbet, but that 19th century prudery led to an artful "tippexing out" of pubic hair in older paintings where the artist had been so adventurous. In much the same way, Victorian prigs felt it best to turf in the genitalia of the Cerne Abbas Giant for fear that monocles would shatter should an aristocrat travel through Dorset and peer at the lewd and chalky hillside. (do not take my word for it on either count. This article from Vulture elaborates on pubic hair in art, but also repeats the Ruskin story as truth http://www.vulture.com/2014/12/brief-history-of-pubic-hair-in-art.html )
It seems we demand perfection, but we also hanker for a point of revelation where we see it is just a little putrid too. Considering the number of flabby or pointy or creased amongst us, it remains remarkable that any such figures being heroes of pop music or Hollywood will always be celebrated as an eccentric novelty.
The next Josie and Robin's Book Shambles is with writer, singer and art historian, David McAlmont, and there are plenty of others to choose from including Stewart Lee, Geoff Dyer, Lisa Dwan, Sara Pascoe, Brian Cox and many more. Browse through our catalogue of delights HERE.
There is a second Dead Funny horror anthology out now, with stories by Alan Moore, James Acaster, Alice Lowe, Isy Suttie, Stewart Lee, me and on and on…HERE