I didn't have the concentration needed for contemporary art today.
I needed more time to work out the puzzles.
Contemporary art exhibition often seem to be a game of The Crystal Maze.
"You've got three minutes in the room to work out what the artist is intending to say. Oh god, times running out, get out, get out…oh so close, only one more turn and a nod and you'd have seen she was expressing mass alienation through excessive interconnectedness. You should have got it, as that's the same thing the other artist was doing in the previous room, but without the slowed up sound of an Orang Utan burning its lips on a waffle iron".
I may have been in a slightly sulky mood when I got to Southampton Art Gallery as I had been excited to see the surrealist work of Ithell Colquhoun, mentioned by Stewart Lee in his introduction to the recent reprint of her book, the Living Stones. I was also told that they owned a lot of works by The Camden Group. My visit coincided with all those works being stored in the cellar, instead it was The British Art Show 8, a Hayward Touring exhibition. The Hayward, currently closed, is brutalist building, Southampton Art Gallery is housed in the civic buildings of the city, not so outwardly brutal, though you might still hear vicious council decisions from the past that echo through the municipal and practical corridors.
I try to approach art installations like a David Lynch movie, don't get caught up in trying to work out what it's about, just work out if you are enjoying the sensations.
I didn't have time to watch all of Alison Maclean's film, Feed Me, but I would have liked to. It was like a Dr Seuss story mangled into an early episode of Black Mirror. Sad-faced happy toys with spy eyes on children and the world, it was lurid, twisted, sweet to the point of decay, and as unsettling as a children's party entertainer with a barely concealed secret.
Linder, once revered as the front of jazz avant garde post punkster's Ludus, whose work I most recently saw in Tate Modern's Performing for the Camera exhibition, has an enigmatic carpet in the exhibition. Cut in a spiral form and with carpet tuft eyes, I was glad to find out that Diagrams of Love: Marriage of Eyes referenced Ithell Colquhoun.
Then, I sat in a room of fans, flashing lights and a voice. This was art as end of the pier haunted house, but at one minute thirty seconds and with free entry too, considerably better value for money. This was Laura Prouvost's Hard Drive in which she gave voices to floors, lighting and devices. It reminded me of the Woody Allen routine when the automated lift made a remark about Woody Allen's accent.
The seats dotted around the gallery were unmarked gravestone slabs. Being of the age when mortality waves at you from behind a net Victorian net curtain, I decided that I didn't want to stretch out the granite that might one day be above me.
In the one room where Southampton's collection was on display, The Perseus Story by Edward Burne Jones, there was also a large cracked egg with a screen inside. Bedwyn William's Century Egg went into the mind of a man watching a woman dance in a music-less room, while others watch bemused, confused and entertained. On the other side of a wall with a Burne Jones Perseus on was a frame containing vajazzle beads. Is vajazzling still a thing?
Was it one of the sparkly genital warnings of the end times?
Pablo Bronstein's The Birth of a Skyscraper from Botanical Architecture is more traditional than much else around you, and all the sweeter for that.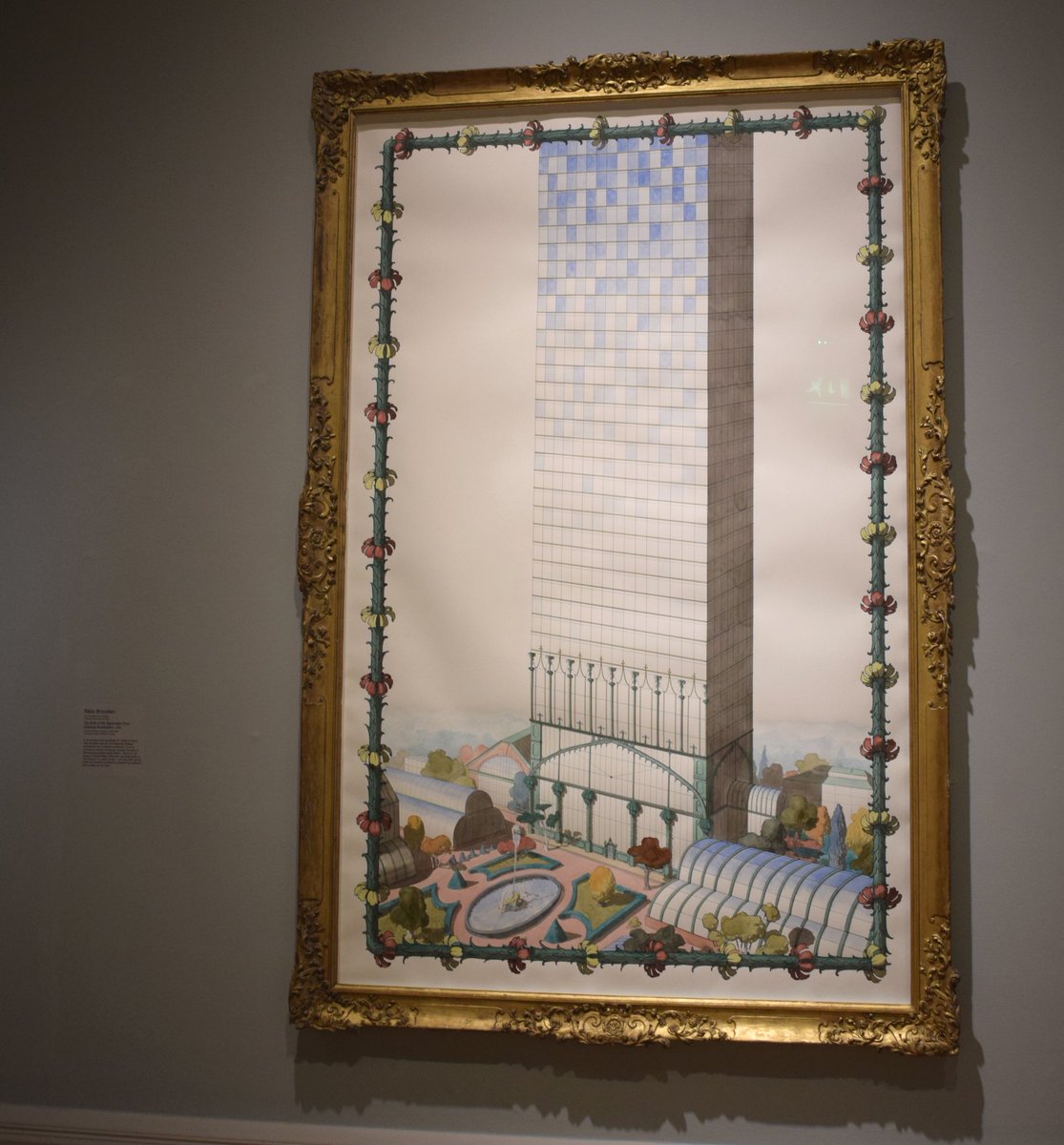 Contemporary artists can also be flamboyant with titles, so much better than Untitled #3, such as Cally Spooner's Damning Evidence Illicit Behaviour Seemingly Insurmountable Great Sadness Terminated in Any Manner.
I wish I understood Andrea Büttner's series of frames containing multiple images of many beasts and building and objects, from beagles in back seats, cave art, and Miller and Monroe. It is her reaction to Kant's Critique of the Power of Judgement, but I fear that my paucity of Kantian knowledge means I am unable to decipher the code.
There are many ideas here, some works may have become flimsier with investigation, some may have led to sudden bursts of mental light, but my pace was too quick for much of it. Sometimes, I just like seeing a bunch of things tied together, making noises and imagine these are small dreams in the corner of Wilf Lunn's mind.
Dead Funny Encore, new collection of Ghost stories by comedians is available NOW.