"I love your light and therefore your dark"
In St Pancras there is a house.
A tall, sharp lined, brick-faced house with the kind of geometry that wouldn't look out of place in a story by Edward Gorey or a Victorian tale of an eccentric family who live with friendly ghosts and snakes.
Suitably, this is the House of Illustration.
Dreamt up by Quentin Blake and Emma Chichester Clarke, this has been home to exhibitions of the work of EH Shepard, Paula Rego and Comic Creatix: Women Who Make Comics.
The first exhibition, in 2014, was of Quentin Blake's work and included a room given over to the very beautiful and very sad The Sad Book by Michael Rosen and Quentin Blake.
This time I was there to see pastels and watercolours of ships, boozers and artists' models, as well as prehistoric boys caught in the twentieth century and rhinoceros owning children.
I was accompanying my father to an exhibition of the works of Edward Ardizzone.
He is best remembered for his children's books, many of which are still in print, including the Little Time series and Graham Greene's The Little Train. Though the rooms are not large, this expertly collated and curated exhibition was expansive.
His pictures of London pub interiors of the 1930s manage to create nostalgia as well as a hint of the ominous as the light dies and the shadows appear to darken. Looking at them on the wall, I thought how well they would illustrate Patrick Hamilton's stories of seeping mental squalor and fool's gold glamour, such as Hangover Square or Slaves of Solitude, then turned around to see that he had illustrated the cover of Hamilton's the Midnight Bell (the first part of the Twenty Thousand Streets Under the Sky trilogy).
His paintings, such as "The Tart" and "Women Fighting" (as the House of Illustration titled it, thought the original title was similarly Tarts Fighting at the Warrington) remind me of Walter Sickert, but lighter, without the sometimes ominous threat that skulks in the shadows of Sickert's work. So much ominous threat that occasionally an American crime writer will buy one his paintings so they can cut it up in the search for clues that he is Jack the Ripper.
Far from Ripperology, there are his illustrations of tired life models catching a little standing sleep as those who sketch hatch plans for cross hatching.
Before we reach a wall of Tim and his adventures with grog giving sea captains, there are two walls of his world war two paintings. It is the simplicity of his "A Cup of Tea for the Burial Party" that makes it so affecting, a reminder that I am of one of the few lucky generations that was not conscripted for war.
There are cover designs for menus ((Hatchett's and Overton's, both look like they would do a very superior poached egg on toast), more book covers, including, not surprisingly, one for Emile Zola's The Dram Shop AKA L'Assomoir, one of the great works or perpetual abject misery.
There are also his illustrations for classic works, including Great Expectations. The picture of Miss Haversham in flames seems to give off heat through the frame.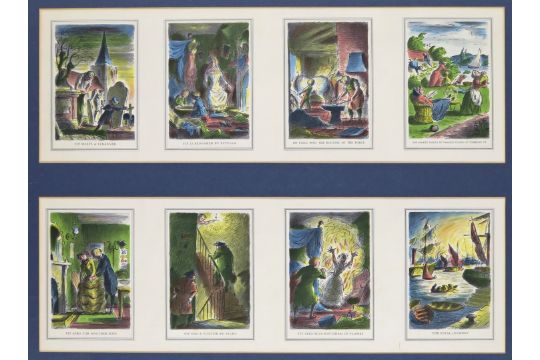 Quentin Blake commented that there is not necessarily intricate detail in the drawing of his characters, yet in these shapes and indian ink lines, there is enough character that we can make the face. We can feel active in the act of creating the personalities before us, which is perhaps one of the reasons his children's book is so effective.
Shirley Hughes described Ardizzone's process as imaging he was facing the proscenium arch of the theatre and drawing exactly what you would see as the curtain rises. "He makes you want to inhabit the story, taking you into the picture, over the hills and far away".
Quentin Blake says he didn't get much advice from Ardizzone, but what he did get is rather wonderful, and easily adapted to suit many artistic pursuits, "you mustn't make it too easy for the printer".
Oh, and that beautiful quotation, 'I love your light and therefore your dark' comes from Walter De La Mare in a letter congratulating Ardizzone on his superb illustrations for Peacock Pie.
There are so many worlds in the these three rooms, and I spent as long in them as I have in much larger exhibitions of artists far more openly revered as their work fitted into the category of "serious artist" not "illustrator". The House of Illustration rightly elevates the art of illustration, after all, it is often the very first art we experience.
Ardizzone: A Retrospective is on until 22nd January
Josie and Robin's Book Shambles is back – series 4 starts with Alan Moore, then Noel Fielding, and coming up, Sarah Bakewell and Nick Offerman. All 34 episodes are HERE
Oh, and there is a new horror anthology, Dead Funny Encore – horror stories by comedians including James Acaster, Stewart Lee, Josie Long, Isy Suttie and loads more incl special guest Alan Moore